Big Shiee
Rarity
Faction
Rebel Army
AP cost
1,000
900
800
Optimal range
Medium
Traits
Pierce
Critical
Playable since
1.8.0
In-Game Description
"A giant battleship from Morden's Army. This ship can battle on both land and water."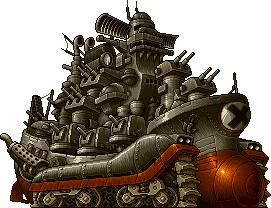 The Big Shiee is a Super Rare unit appearing in Metal Slug Attack. Unlike in the original series, The Big Shiee's tank tread can be seen clearly, as it could in its prior Metal Slug Defense appearance.
It was first only obtainable as a rank reward unit exclusive to the Extra Ops titled "Pirates Attack", but later became available via the boss stages of the first chapter of the Ptolemaic Army's Story, dubbed "Scrap Life".
The main use of the Big Shiee is its powerful cannon - while incredibly slow to start up, it is capable of killing many units in one special when sweetspotted. In addition, even if it is destroyed mid-special, it will finish it before exploding.
Drawbacks of Big Shiee include its atrocious movement speed, further hampered by its somewhat low health and susceptibility to knockback. Fortunately, it does gain knockback immunity while performing its special.
Unlike other units, having higher frames of the Big Shiee only decreases its AP cost and increases its short range attack.
When placed on the same deck with Assy Nero and The Keesi II, they form the "Second Rebellion" team, lowering their AP costs by 15%.
Attacks
Short Range

Secondary Battery (Spread) - Peppers the area with its secondary battery, damaging any enemy units on the way.
Special Attack

Main battery (Spread) - A single cannon fire from its main battery, dealing massive damage. The shell is fired faster with

4. Even if the Big Shiee reaches 0 health, it will still finish the special attack before exploding.
Health
Attribute
Resistance
Lvl

Kinetic
Increased
1
25000
25000
25000
25000
25000
10
37500
37500
37500
37500
37500

Explosive
Normal
20
50000
50000
50000
50000
50000
30
62500
62500
62500
62500
62500

Incendiary
Normal
40
75000
75000
75000
75000
75000
50
87500
87500
87500
87500
87500
* HP might be increased by skills / items or buffs
* Unit gains no HP when evolved
Strengthen Weapons

Strengthen all attack power by (20%, +1% each level).

---

All-Around Armor

HP will increase by (20%, +1% each level).

---

Equip Anti-Armor

Critical rate from all attacks becomes (10%, +0.5% each level).

---

80cm Explosive Bullet

Area of Special Attack will increase
Strengthen Special Attack power by (10%, +0.5% each level).

---
Videos
Trivia
The team name "Second Rebellion" is a reference to the second game.