Deep Sand Marine
Rarity
Faction
Ptolemaic Army
AP cost
960
864
768
Optimal range
Long
Traits
Critical
Anti-Air
Playable since
2.9.0
In-Game Description
"This is the Sandmarine that evolved in order to get deeper into the ground. Its energy balls are coated by Caroline so that they can face to the huge creatures living at the end of the Earth."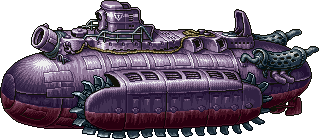 The Deep Sand Marine is a playable unit in Metal Slug Attack, first appearing in the Extra Ops "Glow in the Dark".
A repurposed Sand Marine, this Sand Marine is now capable of going deep underground. It is simply an enhanced version of the original Sand Marine; in return for a slightly lower AP cost, it has more health, faster speed and a more damaging special, but lower resistance.
It shares the same attack as its original counterpart, apart from its special attack, where it launches falling bombs in addition to performing its close and long range attacks.

4 adds extra bombs to this attack to literally cover all the gaps that would be there if it was not unlocked. As such, it excels at destroying air units, though it is just as effective against large ground units.
When placed in a deck with the Sarubia II Ver.P.M, they form the "NEW Ptolemaic Weapons" team, lowering their AP costs by 10%.
Attacks
Close Range

Cannon (Spread) - Fires three big shells at the nearest enemy with increasing range.
Long Range

Energy Ball (Spread) - Shoots out eight energy balls at the enemy in a 1-2-2-2-1 formation.
Special

Full Open Attack (Spread) - Unleashes a barrage of fire at the enemy, using the close and long range attacks (with two less energy projectiles) in addition to sending out falling bombs. Extra bombs are added with

4.
Health
Attribute
Resistance
Lvl

Kinetic
Normal
1
35000
38500
42350
46585
51243
10
52500
57750
63525
69877
76865

Explosive
Normal
20
70000
77000
84700
93170
102487
30
87500
96250
105875
116462
128108

Incendiary
Normal
40
105000
115500
127050
139755
153730
50
122500
134750
148225
163047
179352
* HP might be increased by skills / items or buffs
Strengthen Weapons

Strengthen all attack power by 20% (+1% each level).

---

Equip Anti-Armor

Critical rate for all attacks will become 10% (+0.5% each level).

---

All-Around Armor

HP will increase by 20% (+1% each level).

---

Full Open Attack

Number of Special Attack will increase.
Strengthen Special attack power by 10% (+0.5% each level).

---
Video