Drache Macha
Rarity
Faction
Rebel Army
AP cost
1000
900
800
Optimal range
Short
Traits
Buff
Damage Soaking
Playable since
2.10.0
In-Game Description
"Improving upon the Emain Macha, the performance of a standalone unit has been drastically improved.
Compared to its companion, the Tiger Macha, it excels in durability."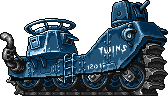 The Drache Macha is a playable unit in Metal Slug Attack.
One of the new Emain Macha twins, the Drache Macha focuses on bulk, having much more health but weaker attacks. It functions like its original version; attacking enemies from afar with a cannonball, while ramming enemies with its tank tread as a melee attack. As its special, it uses a charged version of its close range attack. It can cover a good amount of distance, but it will stop prematurely if an enemy unit is in its way (even if the said unit is gone while it is still using its special attack).
The Drache Macha has incredibly high health, thanks to its already high starting health and

1. Even more health can be added through various buffs, such as the Tiger Macha's

3 and the two health buffers.
It can boost the Tiger Macha's attack output with

3.
When placed in a deck with the Tiger Macha, they form the "New Twins" team, decreasing their AP costs by 10%.
Attacks
Short Range

Ramming Attack (Spread) - Rams enemies with its tank tread.
Long Range

Cannon (Spread) - Shoots a single cannonball from its cannon.
Special

Ramming Attack (Spread) - Slightly moves backward before rushing enemy troops and running them over with its tank tread. Extra hits performed with

4. Stun-immune while performing special.
Health
Attribute
Resistance
Lvl

Kinetic
Increased
1
50000
55000
60500
66550
73205
10
75000
82500
90750
99825
109807

Explosive
Increased
20
100000
110000
121000
133100
146410
30
125000
137500
151250
166375
183012

Incendiary
Normal
40
150000
165000
181500
199650
219615
50
175000
192500
211750
232925
256217
* HP might be increased by skills / items or buffs
All-Around Armor

HP will increase by 20% (+1% each level).

---

Strengthen Weapons

Strengthen all attack power by 20% (+1% each level).

---

Twin(TIGER)

Power of all attacks of Tiger Macha already produced will increase by 30% (+2% each level).

---

Invincible Dragon

Number of Special Attack will increase.
Strengthen Special attack power by 10% (+0.5% each level).

---
Gallery
Video