---
---
Emerald Turtle
Rarity
Faction
Ptolemaic Army
AP cost
1,600
1,440
1,280
Optimal range
Short
Traits
Stun
Homing
Playable since
2.6.0
In-Game Description
"Ptolemaic weapon developed from the stone turtle. It is still way too big, but it was at least finished on time."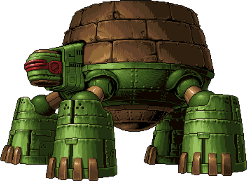 The Emerald Turtle is a playable unit in Metal Slug Attack, available during the Extra Ops titled "Break In The Shell".
A reskinned (and recolored) version of the Stone Turtle, the Emerald Turtle has slightly lower health than its original counterpart, but makes up for this with better attacks and a lower AP cost.
When placed in a deck with the Navy Commander, they form the "Ptolemaic Navy" team, lowering their AP costs by 10%.
Attacks
Short Range

Trample (Spread) - Stomps on enemies multiple times with one of its feet.
Special

Rapid-Fire Missiles (Spread) - Fires two sets of eight missiles, in groups of two at a time. Can stun with

3. Extra missiles added with

4. Missiles home in on nearest enemy.
Stats
Health
Attribute
Resistance
Lvl

Kinetic
Normal
1
55000
60500
66550
73205
80525
10
82500
90750
99825
109807
120788

Explosive
Normal
20
110000
121000
133100
146410
161051
30
137500
151250
166375
183012
201313

Incendiary
Increased
40
165000
181500
199650
219615
241576
50
192500
211750
232925
256217
281839
* HP might be increased by skills / items or buffs
Trivia
Its heavily based on the Teenage Mutant Ninja Turtles series, Raphael
Videos