---
---
Hairbuster Riberts MK II
Rarity
Faction
Rebel Army
AP cost
500
450
400
Optimal range
Long
Traits
Suicide Attack
Playable since
3.10.0
In-Game Description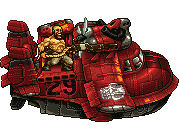 The Hairbuster Riberts MK II is a playable unit in Metal Slug Attack, first appearing in the Extra Ops "Dark Invitation". Parts could be obtained by participating in the event.
A redesigned Hairbuster Riberts carrying Allen O'Neil, the MK II shares many traits of the Hairbuster series; low health with a strong suicide attack. It is essentially an upgrade of the original version, possessing slightly more health and more offensive attacks. With

3, Allen throws more grenades with his attack, which has surprisingly decent range. This model also possesses a suicide attack, which is enhanced with

4; this allows the plane to have a much further reach compared to the original version.
The suicide attack's damage is better than the original, but is only on par with its Amadeus counterpart with double attack buffs. However, its long range suicide attack makes up for the lowered damage.
When placed in a deck with the Dararin Dara MK II, they form the "Escort air corps" team, lowering their AP costs by 10%.
Attacks
Long Range

Drop Bomb (Spread) - The bomb chute opens and drops a large amount of bombs in a manner similar to its Amadeus counterpart.
Special

Bellowing Hand Grenades (Spread) - Allen throws five pairs of grenades, doubled with

3.
Suicide

Explosion (Spread) - Allen collapses and falls off the plane, while the plane glides downwards before exploding. Gliding range increased with

4.
Stats
Health
Attribute
Resistance
Lvl

Kinetic
Increased
1
15000
16500
18150
19965
21961
10
22500
24750
27225
29947
32942

Explosive
Normal
20
30000
33000
36300
39930
43923
30
37500
41250
45375
49912
54903

Incendiary
Increased
40
45000
49500
54450
59895
65884
50
52500
57750
63525
69877
76865
* HP might be increased by skills / items or buffs
Video