---
---
Iron Nokana
Rarity
Faction
Rebel Army
AP cost
450
405
360
Optimal range
Long
Traits
Rapid Damage
Playable since
1.0.2
In-Game Description
"A heavy tank with almighty firepower, able to fight with its cannon at long range and flamethrower at close range."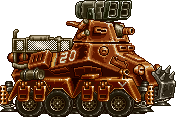 The Iron Nokana is a playable unit in Metal Slug Attack.
Parts of the Iron Nokana can be obtained by completing the Elite stage 13-4 (through the POWs), in addition to the Treasure Hunt, where the player can get one part of the Iron Nokana. This requires a player level of 40 and 20,000 MSP, with a 24 hour waiting period. Parts may also occasionally show up through the Extra/Rare Shops and the Event Crank.
The Iron Nokana initially uses a different special attack than its MK II variant, though when both have unlocked all of their skills, are almost identical in combat. The only difference is that the Iron Nokana is cheaper than the MK II, which comes with a result of less damage and health. Regardless, having both additional special attacks unlocked grants the Iron Nokana massive firepower and increased damage, due to its damage boosting skills.
When in the same deck with the Iron Nokana MK II, they form the Double Nokana team. This reduces their AP for battles by 10%.
Attacks
Long Range

Cannon - Fires three projectiles from its cannon with increasing range.
Special

Flamethrower - Rises up, revealing a ball turret that shoots out a burst of fire.

2 and 4 will also add two cannon projectiles and seven missiles to this attack.
Health
Attribute
Resistance
Lvl

Kinetic
Increased
1
14000
15400
16940
18634
20497
10
21000
23100
25410
27951
30746

Explosive
Increased
20
28000
30800
33880
37268
40994
30
35000
38500
42350
46585
51243

Incendiary
Increased
40
42000
46200
50820
55902
61492
50
49000
53900
59290
65219
71740
* HP might be increased by skills / items or buffs