This page relates to a Metal Slug Attack unit; for information about this boss in the main series, see Iron Nokana.
Iron Nokana MK II
Rarity
Faction
Rebel Army
AP cost
650
595
530
Optimal range
Medium
Traits
Rapid Damage
Playable since
1.17.0
In-Game Description
"An improved version of the Iron Nokana. It was originally an armored large transport vehicle."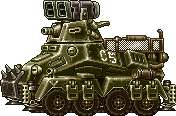 The
Iron Nokana MK II
is the modified version of the original
Iron Nokana
in
Metal Slug Attack
which is an exclusive boss to the
Extra Ops
titled
"Operation Ikari"
. The Iron Nokana MK II itself is colored in military green, rather than red. Its parts and items can be obtained by getting into the Top 1000 or below rank during the event, although the latter appeared first in the Standard 13-4 and Elite 13-4 in the
Attack!
mode. Parts are currently available through the Regular Army's fourth story.
It shares the same moveset as its original counterpart. The MK II launches a barrage of missiles at the enemy, though unlocking

2 and 4 allow it to use its flamethrower and cannon alongside its launchers. When both special enhancers are unlocked, the MK II essentially turns into a stronger version of the Iron Nokana, as the higher AP cost of the MK II gives it more health and damage.
If placed on the same deck with the original Iron Nokana, they form the "Double Nokana" team, lowering their AP costs by 10%.
Attacks
Short Range

Cannon (Spread) - Fires cannon from an arc.
Special Attack

Rapid-fire missile - Fires a salvo of seven missiles.

2 adds a burst of flame from the ball turret at the bottom, while

4 also adds cannon fire.
Health
Attribute
Resistance
Lvl

Kinetic
Increased
1
20000
22000
24200
26620
29282
10
30000
33000
36300
39930
43923

Explosive
Increased
20
40000
44000
48400
53240
58564
30
50000
55000
60500
66550
73205

Incendiary
Increased
40
60000
66000
72600
79860
87846
50
70000
77000
84700
93170
102487
* HP might be increased by skills / items or buffs
Strengthen Weapon

Strengthen all attack power by (10%, +0.5% each level).

---

Unison Fire

Number of Special Attacks will increase.
Special Attack power by (10%, +0.5% each level).

---

All-Around Armor

HP will increase by (20%, +1% each level).

---

Fire All Shots

Number of Special Attacks will increase.
Strengthen Special Attack power by (10%, +0.5% each level).

---
Introduction Video