Jupiter Queen (P.M.)
Rarity
Faction
Ptolemaic Army
AP cost
800
720
640
Optimal range
Medium
Traits
High Damage
Playable since
1.18.0
In-Game Description
"The PM army has lagged in the production of big war weapons developed this Jupiter Queen, inspired by Modern army's techniques.Her battle ability surpasses the original one."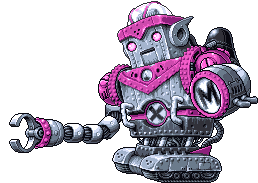 The Jupiter Queen is a pink variant of the Jupiter King, developed by the Ptolemaic Army. Although they supposedly built it themselves, they apparently decided to keep Morden's initial and the Rebel Army logo as part of the paintwork design. It was first deployed against the two sisters Abigail and Beatriz as part of the Extra Ops titled Queen's Battle, where it could also be unlocked. It can now be unlocked with Another Story.
It is the strongest of the Jupiter series (even stronger than the original Jupiter King). While its lasers lack both the stun and debuff capability of the Jupiter King, the Jupiter Queen uses the Jupiter King's special attack as a standard attack, dealing massive damage to enemies it hits. It's special attack does less damage but hits rapidly.
If placed in a deck with the Augensterm Ver(P.M) they form the "Homage Weapons" team, lowering their AP costs by 10%.
Attacks
Short Range

Laser (Spread) Fires twin laser beams from its eyes, raking them across the ground.
Special

Pyro-arm (Spread) Directs an on-going pulse of energy from its arm into the ground.
Health
Attribute
Resistance
Lvl

Kinetic
Increased
1
25000
27500
30250
33275
36602
10
37500
41250
45375
49912
54903

Explosive
Increased
20
50000
55000
60500
66550
73205
30
62500
68750
75625
83187
91506

Incendiary
Normal
40
75000
82500
90750
99825
109807
50
87500
96250
105875
116462
128108
* HP might be increased by skills / items or buffs
Strengthen Weapons

Strengthen all attack power by 20% (+1% each level).

---

All-Around Armor

HP will increase by 20% (+1% each level).

---

Powerful Laser

Strengthen Close Range Attack power by 10% (+0.5% each level).

---

Pyro-Arm Enhancement

Number of Special Attack will increase.
Strengthen Special Attack power by 10% (+0.5% each level).

---
Trivia
Introduction Video