We're Getting Mutants in the MCU - The Loop
Play Sound
Rank Match (also known as Metal Arena) is a new feature introduced to Metal Slug Attack as of the 3.0.0 update. Players fight other players in a 1vs1 format (similar to Online). At the end of each season, players are awarded a hefty sum of medals based on how well they did during that season.
In order to access this mode, the player must be level 10 or higher. As with the standard Online feature, participating in a Rank Match battle will complete the online task.
Overview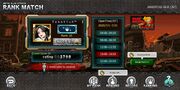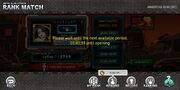 Rank Match is similar to Online on the basis that the player battles other players in real time. However, Rank Match is only open for one hour for the following times (in JST):
4:00-4:59
8:00-8:59
12:00-12:59
18:00-18:59
22:00-22:59
Players can also check the ranking of units in the "Customize Unit" section of "Build Up" and tapping on the "Unit Ranking" setting. Up to 200 units in each bracket can be ranked. The units' ranking depends on how often it is used in each bracket; the gold and platinum brackets are the most reliable for unit strength, as the other three generally consist of lower-levelled players.
Ranks - Iron to Gold
The Iron to Gold rank sets are played in a standard one-on-one format with stars being the main "points". When a player defeats another in battle, they are awarded stars as their victory reward. These stars in turn are used to promote to higher brackets. Each rank set has three tiers; III, II and I. After obtaining enough stars in the "I" rank, the player then advances to the next rank set.
Should the player lose, stars are taken away from them. If the player does not have enough stars to sustain their rank at a high bracket, they will be demoted to the tier below it; for example, a player who loses with no stars in Gold I will be relegated to Gold II with all stars. The rank sets are the absolute minimum for losses; a player in Gold III with no stars that loses a match will still remain in Gold III, rather than being demoted to Silver I.
Once enough stars are obtained in Gold I, the player is promoted to the Platinum rank set.
Ranks - Platinum

The platinum rank set is played differently compared to the previous batch of sets; rather than stars, rating serves as the main "points". Rating is obtained/lost when the player wins/loses battles respectively. All players start with 100 rating when they enter the platinum ranks. Any streak the player had from the previous brackets are automatically removed.
Players can choose between three filters to determine how fast a match can be found; all users, players with a rating higher than yours and players with a rating near yours. The higher rating option is disabled (despite being a selectable option) once the player reaches the top 10 placings.
The points gained/loss are dependent on the matching players' scores and ranks.
Disconnecting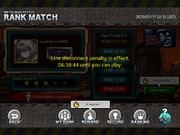 If a player disconnects during a match with another player, intentionally or not, a penalty is applied to the disconnecting player, though it can also apply to both players in rare cases.
In the iron to gold brackets, disconnecting (intentional or not) results in a time penalty before the player can find matches.
As of Season 35, players who disconnect in the platnium bracket (intentional or not) will be warned that further disconnects will penalize the player. After ~4 or so disconnects, further disconnects for that season will result in a loss of 31 points for the player.
Cheating
As Rank Match is simply another version of 1vs1, the report option can be used to report players with suspicious activity.
If cheating is detected in the match, the resulting match will be voided. It would also result in removal of the player from the rankings and they will be unable to participate in the current and future Rank Matches.
Rewards
For every rank the player ascends to, they are given a one-time bonus of 30 medals. For every 3 wins the player obtains, 5 medals will be awarded. The medals from the 3 wins counts towards the 300 medal limit.
Ranks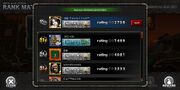 At the end of every season, the rank one player is shown once when players log in once the rankings are calculated.
All other players will have their ranks recorded by the game and is placed in their season record. The player can access their own records by clicking on their icon, then "User Settings", and then the crown icon on the bottom right of their screen. Other players inspecting another player simply need to open up their information screen and then click on the crown icon.
Determining when to start is useful when claiming more medals. A player with a fairly competent deck can easily obtain a top 300 rank (2,000 medals) without much difficulty. If the player wishes to climb to top 50 or higher, they should have a deck that can help bring them there, start as early as possible, and enter as much sessions as possible to claim enough rating. The trend can shift for or against the player with every update, and each season usually goes through two updates, sometimes three if one of the updates only contains one Extra Ops.
A list of all seasons the user participated in will be shown, alongside the rank and bracket they were in when the season concluded. Their best season performance is also placed on the top of this screen. When others inspect another player's Rank Match performance, they will only see their rank on any season that the player possesses a Metal Ranker title; otherwise, nothing appears on their screen. If the inspected player doesn't have any Metal Ranker titles, then no ranking will be seen, though the best performance will still appear, albeit with no rank placement.
Metal Ranker titles are purely cosmetic and have no effect on gameplay.
Rank
Rewards
Medal
Title
1

2

3

4-9

10-19

20-49

50-99

100-299

300-499

500-699

700-999

1000-1499

1500-1999

2000-2499

2500-2999

3000-3499

3500-3999

4000-4499

4500-4999

5000-5499

5500+
Gold
Silver
Bronze
Iron
Notes
Medal rewards for platinum rank were increased at Season 4, with the following table below being the rewards in platinum rank for the first three seasons:
Rank
Rewards
Medal
Title
1

2

3

4-9

10-19

20-49

50-99

100-999

1000+
Originally the penalty system was based on how much time was left in the match when the player disconnected, which was changed after season 7 to further discourage penalties.

Despite this, the penalties were not severe enough for some players (while others would be severely penalized) in the platnium bracket, so the penalty was reworked to prevent players from intentionally disconnecting in a match. This also removed the streak bonus for said bracket to ensure that players would be more closer to each other in rankings. The penalty is unaffected in the other brackets.