Romy
Rarity
Faction
Rebel Army
AP cost
500
450
400
Optimal range
Long
Traits
Homing
Debuff
Pierce
Playable since
3.20.0
In-Game Description
"A member of ACE, the elite force under Abigail. Though Abigail is the leader and Dion is her second, the other members of ACE do not have any ranking heirarchy. Her experimental heavy weaponry has beaming equipment that functions independently of one another, allowing for multiple targets to be locked onto simultaneously. Operating these systems to that extent has a high degree of difficulty. She holds great pride in her black hair and brainstorms every day to find ways to maintain her cuticles. Even when she's on the battlefield, she must have her 8 hours of sleep and seaweed soup."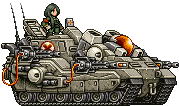 Romy is a playable unit in Metal Slug Attack, first appearing in the Extra Ops titled "Ace". Parts could be obtained from her limited time Campaign Box Crank.
A Rebel officer, Romy pilots a special tank in battle. As a standard attack, she motions her hand to activate her weapon's four vulcan cannons, which target the nearest unit and constantly shoot out a barrage of bullets, quickly tracking the next enemy should the current one be killed. If no enemies are in range, the turrets slowly retract before the vehicle moves forwards towards the next foe.
As her special, she activates her tank's laser annihilation cannon, raking the area in front of it and piercing through any enemies. If

3 is unlocked, the beam temporarily lowers the resistances of struck enemies to × (much like Kelly's special), while

4 extends the attack's duration.
The more heavily armoured the victim is normally, the more effective the debuff:
Resistance
Additional Damage
◎
Increased
+87.5%
◯
Normal
+50%
△
Reduced
+25%
×
No Resistance
+0%
When placed in a deck with Special Grazia, they form the "Ace" team, lowering their AP costs by 10%.
Attacks
Long Range

Quartet Vulkan (Spread) - Motions her hand to activate her weapon's vulcan cannons, which continually fire at the nearest enemies until none are in range.
Special

St. Elmo's fire (Spread) - Motions her hand to activate her weapon's laser cannon, which rakes the area in front of it. Duration extended with

4.
Carbon Nanotube Armor

HP will increase by 30% (+2% each level).

---

Quartet Vulkan

Strengthen all attack power by 20% (+1% each level).

---

Photon Deterioration Beam

Decreases the element resistance to × of enemy hit by Special Attack for 1.0 seconds (+0.067 each level? 0.068? Rounds to 4.3 seconds total at lvl50).

---

St. Elmo's Fire

Number of Special Attacks will increase.
Strengthen Special Attack power by 10% (+0.5% each level).

---
Gallery
Trivia
Romy's special attack, the St. Elmo's Fire is a type of weather phenomenon where a luminous plasma is created by a coronal discharge from a sharp/pointy object in a strong electric field in the atmosphere.
Videos