Sea Satan II
Rarity
Faction
Independent
AP cost
800
720
640
Optimal range
Long
Traits
Pierce
Targetting
Playable since
3.5.0
In-Game Description
"The secret weapon of Amadeus Army: a Sea Satan+ with an upgraded engine, customized for land use. This massive battleship's barrage of jet attacks can hit far and wide. It is painted in Amadeus color."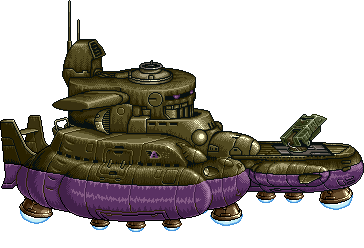 The third revision of the Sea Satan, oddly named the Sea Satan II, became a playable unit in Metal Slug Attack during the Extra Ops titled "One Mind".
Like its earlier variant, it fires missiles with homing traits as a main attack. Its special consists of the Sea Satan II flying towards the nearest enemy before incinerating them with its jet engine, dealing light but rapid damage.
Like Special Destrade and Big Shiee, the Sea Satan II will continue to perform its special even if its HP is fully depleted partway through.
When placed on the same deck with the Amadeus Mortar, the form the "Devil Domination" team. This reduces their AP costs by 10%.
Attacks
Long Range

Guided Missiles - Fires five pairs of missiles in a row.
Special Attack

Demon Breath (Spread) - Flies towards the nearest enemy, before incinerating them with its jet engines.

4 extends the duration.
Health
Attribute
Resistance
Lvl

Kinetic
Normal
1
26000
28600
31460
34606
38066
10
39000
42900
47190
51909
57099

Explosive
Normal
20
52000
57200
62920
69212
76133
30
65000
71500
78650
86515
95166

Incendiary
Increased
40
78000
85800
94380
103818
114199
50
91000
100100
110110
121121
133233
* HP might be increased by skills / items or buffs
Increase Launch Range

Increase Flight Distance by 20% (+0.8% each level).

---

All-Around Armor

HP will increase by 20% (+1% each level).

---

Strengthen Weapons

Strengthen all attack power by 20% (+1% each level).

---

Demon Breath

Number of Special Attacks will increase.
Strengthen Special Attack power by 10% (+0.5% each level).

---