---
---
Sol Dae Rokker
Rarity
Faction
Independent
AP cost
1,000
900
800
Optimal range
Long
Traits
Aerial
Playable since
1.8.0
In-Game Description
"Mysterious form in charge of protecting ancient ruins. It entered into extremed fury after the ruins have been ransacked."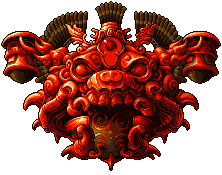 The Sol Dae Rokker is a playable unit in Metal Slug Attack, first appearing in the Extra Ops "Score Attack!!". Parts can be currently obtained through Another Story, through "Utopia".
It attacks enemies by using its wolf cannons as a standard attack and its sun stone receptacle for its special. Compared to other boss type units, the Sol Dae Rokker has very little health and will quickly fall to enemies like Cleopatra if not protected.
When placed in a deck with its corrupted counterpart, they form the "Ruins of Guardian" team, lowering their AP costs by 10%.
Attacks
Short Range

Purification Flame (Spread) - Charges forward, blasting flames towards the ground.
Long Range

Wolf Projectile (Spread) - Summons a pair of wolf spirits, which home in on enemies.
Special Attack

Light Projectile (Spread) - Fires four streams of energy blasts, or more with

4 unlocked.
Health
Attribute
Resistance
Lvl

Kinetic
Normal
1
5000
5500
6050
6655
7320
10
7500
8250
9075
9982
10980

Explosive
Normal
20
10000
11000
12100
13310
14641
30
12500
13750
15125
16637
18301

Incendiary
Normal
40
15000
16500
18150
19965
21961
50
17500
19250
21175
23292
25621
* HP might be increased by skills / items or buffs