We're Getting Mutants in the MCU - The Loop
Play Sound
---
---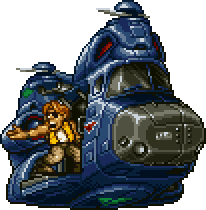 Special Ops is a new supplementary cooperative game mode introduced in Metal Slug Attack. It is situational as there is a chance to unlock this mode after successfully completing (not necessarily for the first time) any mission in the Attack! (excluding automated Raids).
The player has to face a buffed up unit that is considered a boss (Emergency) in three difficulties: Easy, Normal, and Hard - all three have to be beaten in under 6 hours in order to get the reward, which is Item loot. However, the player is given only 1 attempt which is consumed regardless of the outcome (boss health does not regenerate, similar to Guild Raids).
For the reason mentioned, this mode cannot be beaten without help from one's Guild. The player can send backup/support requests to up to 5 people. The latter receive a notification in the Message under the Backup/Attack tab, and can choose whether to provide help or not. If they choose to help out, they are given 1 attempt each and are rewarded 50 Guild Medals if successful.
Only after all three stages are cleared, the player that initiated the Special Op receives combined reward for all stages via the Mailbox, and Special Ops becomes closed again.
Enemies and Rewards
As the player goes up in Levels, they face new enemies that drop better loot, however once moved on there is no way to access previous encounters (possible only through providing support for a lower-level guild mate).
Item drops are drawn randomly from pre-determined pools, and thus vary each time. Item pools change with each enemy, 2 for every tier: the first half contains weapon-enhancing items, and the second half contains survivability-enhancing items of the corresponding tier.
Lv.
Req.
Enemy
HP
(easy)
HP
(normal)
HP
(hard)
Item Loot
1
8,000
10,000
12,000
11
10,000
12,000
14,000
21
12,000
14,000
16,000
31
14,000
16,000
18,000
41
16,000
18,000
20,000
Bugs
If no Special Ops are currently ongoing (the icon is always visible), attempting to access it will result in an error message [reports vary as of 1.2.0]: "Communication Error. This request cannot be played."