Tyrant Pharaoh
Rarity
Faction
Independent
AP cost
950
855
760
Optimal range
Long
Traits
Stun
Playable since
1.20.0
In-Game Description
"The immortal Tyrant who has awoken from a short slumber. The disgrace of defeat has driven it insane with rage."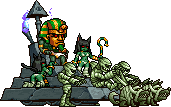 The Tyrant Pharaoh is an alternate form of the Pharaoh's Arc, first appearing in the Extra Ops titled Pharaoh Rebirth. Angered after his earlier defeat at the hands of Scotia, the Pharaoh went on a rampage.
Essentially similar to the standard Pharaoh's Arc, the Tyrant Pharaoh has a slight AP increase in return for slightly increased health and more attacks. While his Curse Ball lacks the ability to home in on enemy units, he gets the ability to throw a second Curse Ball with

4, which is aimed at air units.
With the increased amount of attacks, the Tyrant Pharaoh can be quite hard to reach with melee units, as they will most likely be stunned trying to reach him. His low health does make him susceptible to ranged attacks, so be wary of this and give him some protection, especially against incendiary units as he takes more damage from them.
When the Tyrant Pharaoh and a Mummy Cat Generator are placed in the same deck, they form the "Pharaoh Rebirth" team. This lowers their AP costs by 10%. While the Lovely Mummy does not form a team with the Tyrant Pharaoh, having them in the deck will significantly boost his power when their

4 is unlocked.
Attacks
Long Range

Mummies' Fusillade (Spread) Orders eighteen Dog Mummy barks, and nine Mummy poison bombs. Stuns with

1.
Special

Super Curse Bullet (Spread) Hurls a low-traveling Super Curse Ball at the opposing side. Stuns with

2. With

4, he will also fire an additional high-traveling Super Curse Ball.
Health
Attribute
Resistance
Lvl

Kinetic
Increased
1
9000
9900
10890
11979
13176
10
13500
14850
16335
17968
19765

Explosive
Normal
20
18000
19800
21780
23958
26353
30
22500
24750
27225
29947
32942

Incendiary
Reduced
40
27000
29700
32670
35937
39530
50
31500
34650
38115
41926
46119
* HP might be increased by skills / items or buffs
Angry Tyrant

When a Long Range Attack hits, there is a (10%, +0.5% each level) chance that the enemy will be stunned.

---

Pharaoh's Curse

When a Special Attack hits, there is a (10%, +0.5% each level) chance that the enemy will be stunned.

---

Beborn Tyrant

HP will increase by (10%, +0.5% each level).

---

Super Curse Twin Balls

Number of Special Attacks will increase.
Strengthen Special Attack power by (10%, +0.5% each level).

---
Videos